How can we help your brand?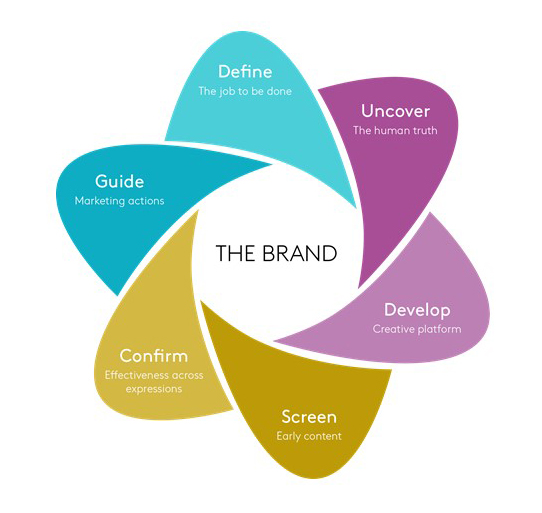 Define: What do we want to change about what people think/feel/do about our brand? What is the brand strategy and how do we get this right?
Uncover:  How do we discover the human truth that will unlock our brand's potential in our advertising? How can we make the brand proposition find meaning in the consumers' world? LifeStreaming is our unique, quasi-ethnographic approach to discover the moments and occasions that brands can tap into to firmly cements them in the minds of consumers.
Develop:  How can the brand positioning be conveyed effectively to the audience?  How can we assess the potential of creative platforms and see how they might be relevantly and engagingly developed? Qualboard is our online blogging tool, which has many uses, not the least of which being to help explore creative idea territories for brands. This tool is complemented by IDeA, which helps to inspire, develop and assess early creative content.
Screen: Which of my creative ideas has the best potential to convey the brand in the most compelling way? And how might it be optimised even further before developing into an animatic or finished TVC? Pre-LinkTM is our qualitative tool to assess early copy for its future promise and potential. It brings our world-renowned learnings from LinkTM into a qualitative environment, using System I and II thinking, to gauge which creative option is right for further development.
Confirm: Do the executions deliver against the strategy and the campaign idea?  Are the executions motivating and distinctive, and can they be improved? How?  Are they strong enough to run? Brand teams need to create content that leaves a lasting impression. LinkTM ensures you know when you have it… and what to do when you don't. It sets the global gold standard for helping to optimise creative across multiple channels and is unrivalled in its pedigree to do this.
Guide: As with anything in business, it is important to build upon your successes and learn from your failings. Taking learnings from one campaign and leveraging them into the next is vital to assure continuous improvement and lasting success.  Our Brand Guidance System and CrossMedia solutions ensure you are in the best possible position to do this.
Insight and thinking
Read our latest articles and reports, with expert perspective, proprietary data, and thought-provoking insights.