Corporate Reputation 2019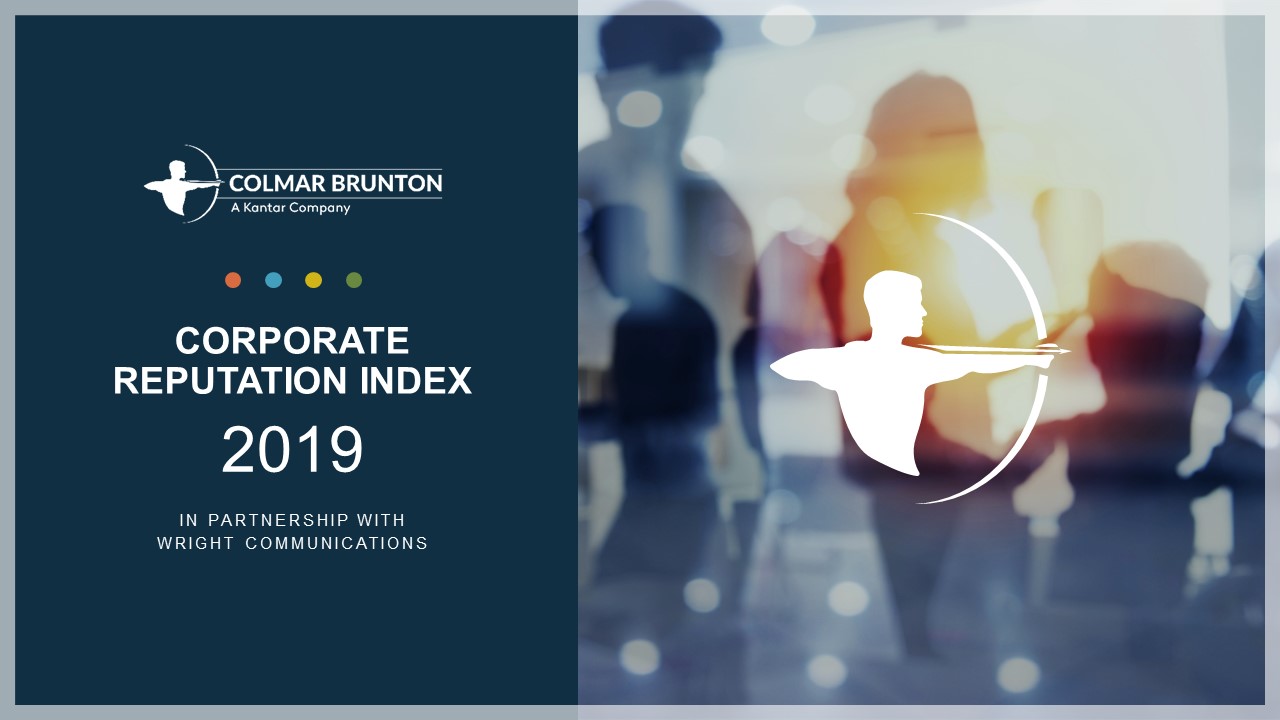 Home-grown New Zealand brands hold nine of the top 10 places in the Colmar Brunton Corporate Reputation Index 2019 released this week.
The Corporate Reputation Index, developed in partnership with Wright Communications, measures four pillars of reputation – responsibility, fairness, success/leadership, and trust.
Air New Zealand has continued its five-year stellar reign at the top of the Index with Pak'nSave moving up four places from last year to second and TVNZ coming in third. Toyota, loved by Kiwis as their own, sits in fourth as the only international brand with a top 10 reputation in New Zealand.
The other local brands in the top 10 are, in order, AA Insurance, Fisher & Paykel, Kiwibank (up to 7th place from 16th), The Warehouse, New World and Auckland International Airport.
Air New Zealand's Head of Communications, Marie Hosking, said Air New Zealand was thrilled to be confirmed as New Zealand's corporate reputation leader for the fifth consecutive year.
The result represents the collective efforts of the more than 12,000 Air New Zealanders to deliver the best possible travel experience to our customers every day, whether it's across domestic New Zealand or travelling to and from our 32 international destinations.
Reputation leadership and customer focus go hand in hand. It's only by maintaining an unwavering focus on customer experience, continuing to invest in products and services, and bringing a warmth and humanity to the way we interact with our customers that we can maintain our number one position.
Head of Colmar Brunton, Sarah Bolger, said Australian brands were cottoning on to how to connect with Kiwis, with Countdown leaping up to 11th place from 21st and Bunnings entering the Index at 13th place.
Ms Bolger said the reputations of brands with a direct customer interface are most influenced by people's personal experiences of dealing with those brands.
We are living in the age of experience. Building reputation nowadays is about actions not words. Today the most impactful corporate activities are those that people see and feel.
However, she said positive customer experiences could be overshadowed or damaged by negative media coverage or public concerns about health, social or environmental harm caused by a company's products, services or operations.
If you can't demonstrate value and are not telling people how you are contributing positively to the world, you are going to be less relevant to people. Considering seven in 10 people struggle to name a New Zealand brand that is a leader in any form of sustainability, there is plenty of room for improvement.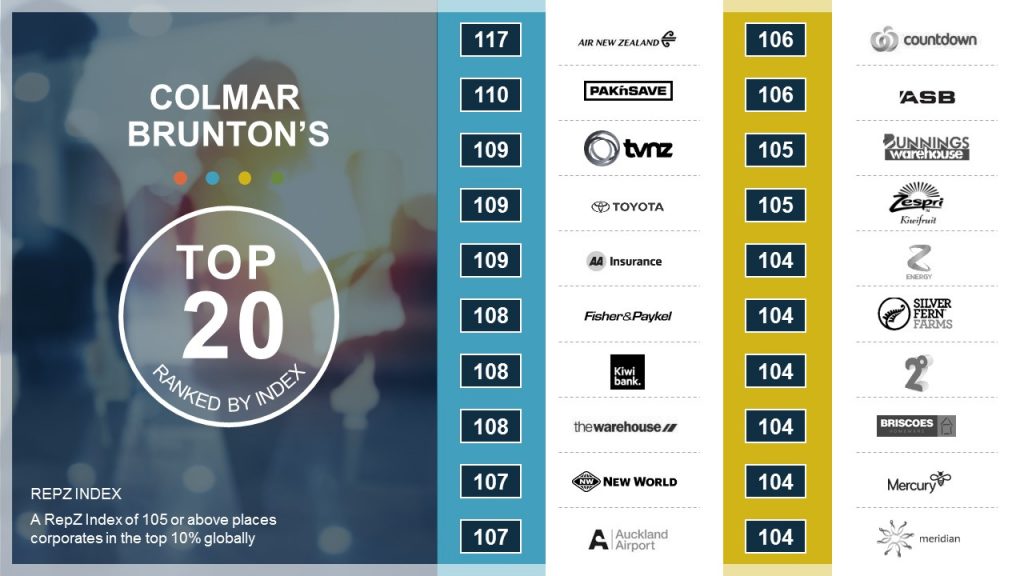 Wright Communications' Managing Director, Nikki Wright, said media coverage was the most influential factor on the reputations of corporate brands with limited public interface including: Fletcher Building, Fonterra, Zespri, Fulton Hogan, SkyCity, Kiwirail, and Goodman Fielder.
If you have a brand that is driven by media content it is very important that you manage the narrative. You need to identify those aspects that enable your company to connect with Kiwis. You need to search out good stories to tell and find a way to tell them. Companies whose reputations are suffering from negative media coverage around particular issues need to say clearly and positively how they are addressing those issues.
In the absence of experience, it's important to win over hearts and minds with great storytelling. Neuroscience shows people are more likely to engage and remember emotional stories well told than facts and figures. This is where media have an important role – both in terms of being a trusted 'third party' source, as well as delivering stories in ways that connect in a meaningful way.
Ms Bolger said Colmar Brunton was seeing the growing importance of corporate kindness in New Zealand.
New Zealanders are increasingly judging the reputation of a business on how fair and responsible they are. Colmar Brunton's Better Futures Report shows that 68% of Kiwis are concerned about the cost of living and four in 10 are highly committed to living a sustainable lifestyle.
Ms Wright said Colmar Brunton had been running the Index for five years and there was a remarkable consistency in the top 20 companies.
Companies which do the right things by the public and tell their stories well have resilience that enables them to ride out occasional setbacks and bad news. Conversely, companies that don't consistently provide a great customer experience or communicate how they are dealing with their issues find their reputations suffer.
The New Zealand Corporate Reputation Index uses the global RepZ framework, created by Colmar Brunton's parent company Kantar, with standardised reputation attributes. It includes New Zealand's top 50 consumer facing corporates by revenue as listed in the Deloitte Top 200 plus financial services brands. The Index has 17 industry categories with brands indexed against major competitors in their category to remove industry bias. More than 20,000 New Zealanders have been interviewed over the last five years with an average sample size of 500 per category per year.
To download the report click here
Corporate Reputation Top 20 for 2019
| | 2019 Ranking | 2018 Ranking | Ranking difference |
| --- | --- | --- | --- |
| Air New Zealand | 1 | 1 | 0 |
| Pak'nSave | 2 | 6 | 4 |
| TVNZ | 3 | 2 | -1 |
| Toyota | 4 | 3 | -1 |
| AA Insurance | 5 | 4 | -1 |
| Fisher & Paykel | 6 | 7 | 1 |
| Kiwibank | 7 | 16 | 9 |
| The Warehouse | 8 | 8 | 0 |
| New World | 9 | 9 | 0 |
| Auckland International Airport | 10 | 10 | 0 |
| Countdown | 11 | 21 | 10 |
| ASB | 12 | 17 | 5 |
| Bunnings | 13 | – | – |
| Zespri | 14 | 23 | 9 |
| Z Energy | 15 | 5 | -10 |
| Silver Fern Farms | 16 | 12 | -4 |
| 2degrees | 17 | 28 | 11 |
| Briscoes | 18 | 20 | 2 |
| Mercury | 19 | 14 | -5 |
| Meridian Energy | 20 | 19 | -1 |
Insight and thinking
Read our latest articles and reports, with expert perspective, proprietary data, and thought-provoking insights.