Mitre 10 take out the Kantar Supreme Ad Impact Award for 2021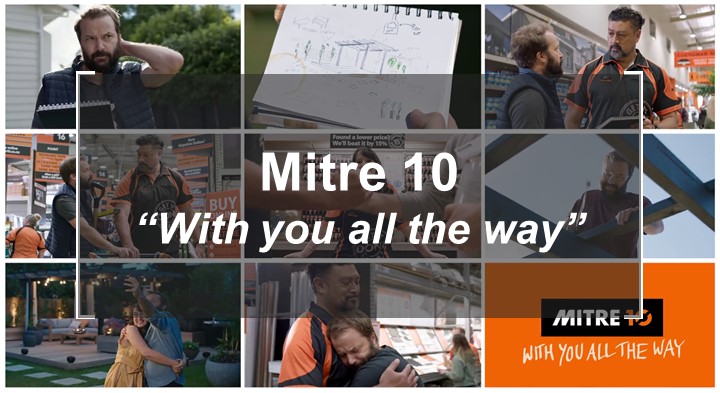 In 2021, we were privileged to witness a slew of wonderful, new advertising on our screens. While some came from overseas, many ads were produced locally, as a degree of normality returned to New Zealand at least for a while.
Certainly, the narrative started to shift from how brands could help consumers through COVID-19 to themes drawn more from their regular playbooks. Throughout the year, Kantar tested 176 TV ads in total and saw a number of very high performing TVCs making their mark, with strong storylines, humour, nostalgia and music often playing a role in their success. And so, from a field of very impactful ads indeed, we are pleased to announce the worthy winner of the 2021 Kantar Supreme Ad Impact Award is Mitre 10.
The ad, 'With You All the Way', tells the heart-warming story of a Kiwi bloke wanting to build a dream gazebo for himself and his partner but not knowing where to start – until he enters Mitre 10. This campaign endeared itself to viewers who were enchanted by the storyline that features a Mitre 10 staff member, our hero figure, who helps the dream come true. Across the three key pillars that support impactful advertising and deliver strong branded memorability, Mitre10 scores above the 90th percentile for enjoyment and branding and just shy of the 70th percentile for impact.
"'With you all the way' is our customer promise of partnership – championing our commitment to helping customers build confidence in their home improvement abilities and offering valued support to get their projects done right.
"The ad combines the message with good storytelling, a touch of humour and a catchy tune, to create an emotive connection with the viewer. It also leverages our key points of difference: our helpful team members and quality customer experience. We're honoured to see the campaign recognised in this way and look forward to unveiling further chapters in Pete and Grant's story in the coming months."- Jules Lloyd-Jones, Chief Marketing Officer, Mitre 10 New Zealand Ltd.
Congratulations to the Mitre 10 team, a great result that can be built on for further success in 2022.
See the below infographic highlighting the Kantar Ad Impact Award 2021.

We would also like to give a special mention to our runner up, Turners Cars with their 'We Love Buying Cars!' advert. In particular, this advert stood out for its strong branding with great story-line integration and prominent brand cues, which the viewer is unlikely to forget. Combining this with an enthusiastic and personable salesperson and an easy to follow 'how to' narrative, this ad proved both highly enjoyable as well as informative and persuasive.
We'd love to talk to you about how we can help out in optimising your brand's creative. If that's something you'd be interested in, please contact Brian Turner.
This article was published in StopPress news February 2022.
Insight and thinking
Read our latest articles and reports, with expert perspective, proprietary data, and thought-provoking insights.