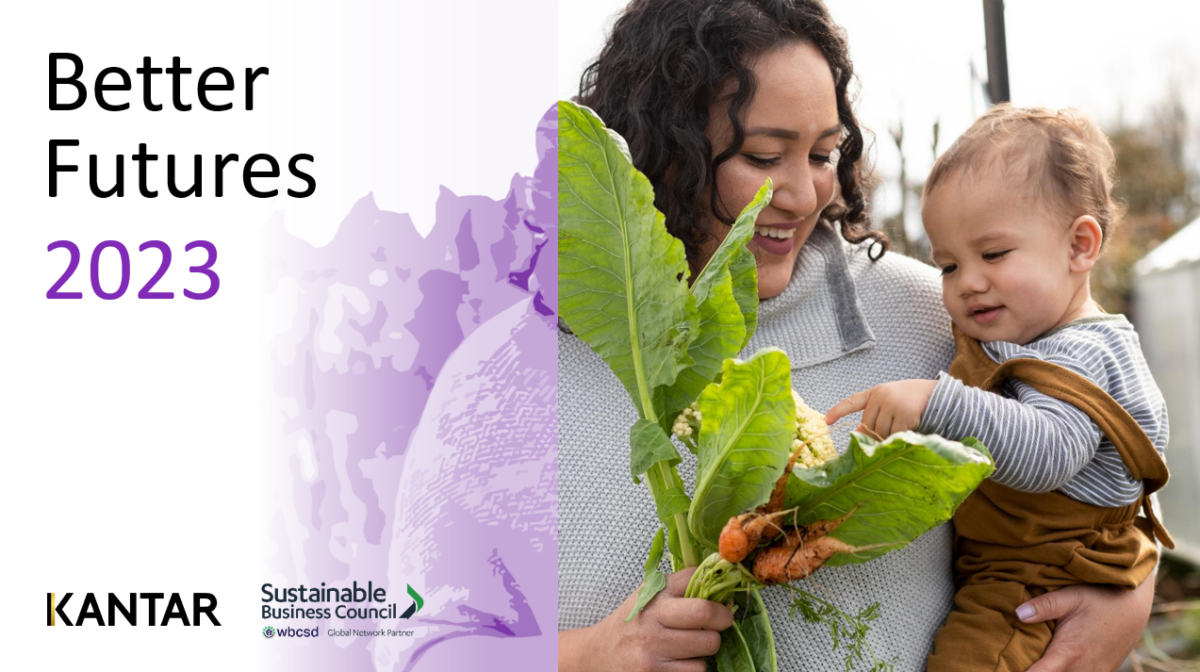 Cost of living remains #1 concern for Kiwis while commitment to sustainability drops
New research confirms the rising cost of living is putting increasing pressure on New Zealanders, with sustainability commitment and behaviours taking a backseat.
72% of respondents to Kantar's 2023 Better Futures report, released today in conjunction with the Sustainable Business Council (SBC), named cost of living as their primary concern – and 90% also named it as the leading consideration when purchasing a good or service.
The report, which surveyed 1000 New Zealanders, also found these economic headwinds appear to be impacting consumers' sustainability behaviours and purchases, with activities such as 'making eco-conscious choices', 'changing to a plant-based diet', 'buying locally grown products', all decreasing between 2022 and 2023.
Kantar's Chief Client Officer, Sarah Bolger, says the pressure of living costs is closely followed by concerns around the protection of New Zealand children and crime levels.
"With the cost of living increasing more than 8% for the average Kiwi household in 2022[1], the dominance of affordability in determining behaviour at the moment comes as no surprise," Ms Bolger says.
"The fact that the two areas of concern that saw the largest year-on-year increase ('the state of the NZ Economy' and 'managing personal debt') were also cost-related further highlights the acute financial pressures and challenging economic headwinds New Zealanders are currently facing."
Storm impact caused short-lived spike in sustainability commitment
Economic stress is not the only thing on people's minds – after being included for the first time in the survey's 15-year history, extreme weather events have entered the top 10 concerns.
Despite this growing concern, there is the strong indication of only a temporary boost to commitment to sustainability in the weeks after January and February's severe weather events.
"The weeks following the Auckland Anniversary weekend flooding saw a small but temporary increase in sustainability commitment nationally, and with the data available it appears likely that that the impact of Cyclone Gabrielle will follow a similar pattern," says Ms Bolger.
On the whole, this year's insights reveal an 11% decrease in the percentage of New Zealanders claiming to be highly committed to sustainability. Despite that drop, concern about the impact of climate change on New Zealand remains stable at 53%.
SBC Executive Director Mike Burrell says, "The 2023 results are an acute reminder of the multiple compounding crises Kiwis are currently grappling with. Against this backdrop, it's understandable that short-term commitment to sustainability has taken a hit."
"We saw a similar dip during the worst of the pandemic, which slowly righted itself as the COVID-19 related challenges eased. The fact there remains a heightened concern around climate change is promising, and suggests we'll see sustainability commitment increase again once we're through these economic headwinds."
"Unless we address the immediate every-day issues facing Kiwis, it's difficult to address the longer-term challenges. We need to be kind, we need to be supportive, and we need to help people through this so that when they come out the other side, they're ready to get stuck into it again, because the climate and sustainability challenge isn't going away."
The importance of intergenerational thinking
This year's research found the 18-24-year-old age group displayed the lowest level of sustainability commitment of all age groups, with the number of highly committed decreasing 21% since 2022.
However, among those aged 66 and over, commitment has increased in the last year.
"This may be the first time many young Kiwis are faced with multiple competing crises, and the hopelessness they are likely feeling right now is clearly reflected in the results," explains Ms Bolger. "On the flip side, older generations have experienced recessions and other global crises before and come out the other end. These insights suggest that experience is allowing them to focus on the long game."
Mr Burrell believes that intergenerational cooperation is going to become increasingly important as we tackle these climate challenges together.
"The younger generations provide an incredible energy and sense of urgency, calling the older generations to arms and holding them to account, and the older generations in turn provide a broad range of perspectives and experiences that the younger generations can learn from, including staying the course and keeping an eye on the horizon."
The role of business in the short, medium and long term
Mr Burrell believes business has a key role to play, not only in supporting Kiwis through the economic headwinds but also in ensuring we maintain momentum and focus on our medium and long-term sustainability goals.
"Businesses are great at managing short, medium and long-term priorities, making them really well-placed to tackle this challenge," he explains.
"In the immediate term, they can do their best to make products affordable, be supportive of their workforce, and to partner with government where they can in order to alleviate this economic pain. At the same time, they also need to be continuing with their 3-5-year investments that are working towards bending the emissions curve and adapting to a warmer planet. And finally, it's important they don't lose sight of the long-term initiatives around research and development and reducing emissions."
Mr Burrell acknowledges there will be more challenges to overcome as New Zealand collectively moves to build its resilience and deliver on its climate commitments.
"When we talk about economic resilience, we also need to talk about personal resilience. You sometimes go through stormy seas, but you still need to chart the course knowing the storm will pass."
"Importantly, the challenges that were there before the storm will still be there after, so we need to make sure we are prepared to tackle them with renewed ferocity once we come out the other side."
______________
The 2023 top 10 concerns for New Zealanders:
The cost of living +1
Protection of NZ children +2
Crime levels +4
Availability of affordable housing -2
Violence in society -6
Not having access to good, affordable healthcare +8
Build-up of plastic in the environment -7
Extreme weather events (New top 10 entrant)
Pollution of lakes, rivers and seas +0
Ocean plastics (New top 10 entrant)
Margin of error ±5% points at the 95% confidence level.
This is the 15th year Kantar has been monitoring the issues New Zealanders care most deeply about. Find the full 2023 Better Futures report online here.
[1] Statistics NZ