Air New Zealand takes out April Kantar Ad Impact Award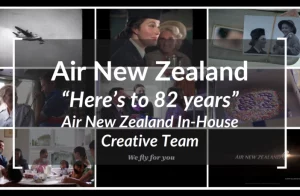 In April we tested a range of new creatives in the hunt for the Kantar Ad Impact Award winner. As seen in the past, Kiwis particularly enjoy a birthday celebration and this month, the well-loved brand Air New Zealand celebrated their 82nd birthday! Their 60" advert taking the win this month showcases 4 storylines over time – each putting the customers meaningful relationship with the Brand at the heart of the story to communicate how "it's always been about you". The key qualities inherent in the ad were, in summary:
Branding
Brand Love
Meaningful Difference
See the below infographic for more information about the April Kantar Ad Impact Award.

This article was published in StopPress news June 2022.
Insight and thinking
Read our latest articles and reports, with expert perspective, proprietary data, and thought-provoking insights.