Whittaker's takes out June Kantar Ad Impact Award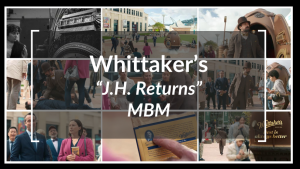 This month's Kantar Ad Impact Award goes to Whittaker's for their "Whittaker's J.H. Returns" ad. Set recognisably in the heart of Wellington, the ad draws on the strong history of the brand to introduce their departure from brand ambassador Nigella Lawson. The ad features Karl Urban as J.H. Whittaker who has travelled from 1896 to continue his pursuit to make things better. The storyline uses humour and key brand cues to successfully introduce a new era of Whittaker's advertising. The key strengths of the ad were its:
Branding
Impact
Brand Love
See the below infographic for more information about the June Kantar Ad Impact Award.

This article was published in StopPress news July 2022.
Insight and thinking
Read our latest articles and reports, with expert perspective, proprietary data, and thought-provoking insights.