As the year comes to a close, I can't help but reflect on a report I read at the very beginning of the year: "Into the Metaverse" by Wunderman Thompson. Admittedly, this was the first time I had heard the term, metaverse, but my attention was well and truly piqued, and to be honest, I was "wowed". A new iteration of the internet, web3, virtual societies, omniverse, digital twins, connected and persistent spaces, virtual goods, interoperable, avatars, tokens, NFTs… the list goes on… my vocabulary was changing by the minute as I enthused myself with a new language.
My excitement for this was welcomed by the Kantar New Zealand team, where over the course of 2022, we began a stream of work to understand the metaverse in more detail, what implications it might have for our clients, and how we, as a business, should consider adopting emerging technologies. In May, we even hosted a company-wide metaverse training session, dubbed 'What is the metaverse and why should you care?'
Is the Metaverse the next big thing?
At this time, my passion for the metaverse was through the roof, and as my boss might have said, palpably evident. Part of this was seeing what was emerging offshore… a former Senior colleague of mine from a NYC ad agency detailed the metaverse to me as 'the next great thing' – an opportunity for people to connect with brands on their terms, and for brands, the ability to harness a creative and extremely engaged audience.
However, other interviews I undertook were far more reserved regarding the metaverse – particularly in New Zealand, where the head of strategy at a well-known ad agency revealed his scepticism. With two opposite opinions on the metaverse at hand, I took a leap of faith, and went into the metaverse myself to form my own thoughts on it. This is where everything became clear to me: the metaverse, and the promise of how it can enable people and brands, started to lose its steam and unravel. Questions began to emerge. And, frankly, cynicism took over.
Going into the 'metaverse'
In my pursuit to go on the metaverse, I chose to build my avatar on Decentraland, a virtual world, often referred to as the 'early iteration of the metaverse.' While the metaverse does not yet exist in its true form, Decentraland is about as close as we can get, currently. Decentraland has been described as a space where people can virtually socialise, work, study, and do things, in an 'always on' environment, with endless spaces and worlds to jump between. In theory, Decentraland is a place where people can authentically express themselves, find likeminded communities, and choose to engage with brands they meaningfully connect with. Sounds great, right? Especially if you're a marketer!
Brands such as Forever 21, Samsung, the Australian Open, Sotheby's, Gucci, and more, are quickly trying to establish themselves on Decentraland, to be seen as first movers in this space, and undoubtably, grow brand love amongst the younger generation. However, it was quickly evident that while digital infrastructure and investment was being made at scale on Decentraland, the users of this platform are lacking. And the user experience could only be described as clunky and awkward – not quite interoperable, nor a digital twin of reality.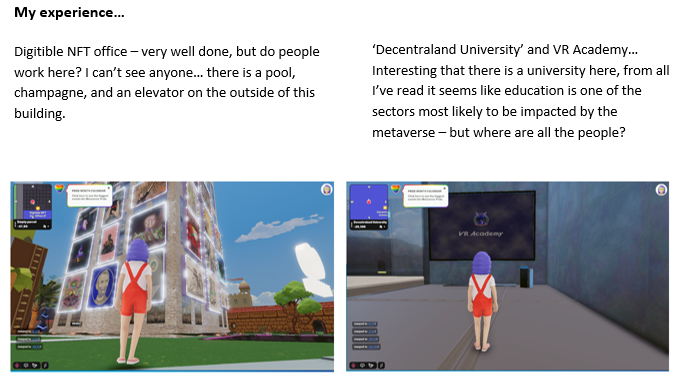 When I was on Decentraland, hopping between worlds and finding new spaces to engage with, I assumed it was a lack of understanding that led me to believe that there weren't many people on the platform. But in July, DappRadar, a metaverse tracking dashboard, released a statement saying the maximum daily users on Decentraland was 650 people. Decentraland has since debated this figure, suggesting that there are a daily average of 8,000 users… but even with users in the thousands, this still begs the question, are brands jumping on this trend too soon? And more broadly, will the metaverse ever reach the potential Mark Zuckerberg has led us to believe exists?
Disillusionment sets in
In the earlier half of the year, after conversations with experts, countless articles read, and attending a web3 forum, I would have considered telling clients that the metaverse is a key channel they should consider investing in, to future proof their brands. This would have reflected the waves of positivity about the metaverse, being projected from overseas markets, such as in the USA; where 61% of advertisers intend to increase their spend in the metaverse in 2023 (2023 Media Trends and Predictions Report, Kantar). My former NYC ad agency colleague reinforced this sentiment: "All of our clients are coming to us trying to understand what they should do or how they should engage with the metaverse. It is so busy, I've never seen it like this before."
But now, after having experienced a glimpse of what the metaverse could look like and realising that the genuine demand for something like this is currently extremely low, particularly in New Zealand, it feels premature. Equally, it is premature to knock the concept entirely, and dub the metaverse a failure, but at present, Kiwi brands may benefit more from putting their marketing dollars elsewhere.
Navigating emerging technology
In saying this, I do believe there will be a different set of channels, technologies, and platforms that people will care about in the future. This might be better thought of as the 'futureverse', removing ties to Meta, and focusing on emerging technology in general, versus a single concept with uncertain appeal. We know that new technologies will continue to shape the way people and consumers engage with brands, but knowing how to navigate the bubbling pressures to 'be on trend' or 'at the forefront of change' will be increasingly important to marketers over the next few years.
Before making big bets, we suggest marketers filter the hype with the following considerations:
Do our current customers care about this technology and/or platform? Are they spending time with it already? Is it a natural space for them to engage?
If not, are there potential customers that we could reach through this new technology and/or platform? What would engaging with them do for our brand?
How can we enable genuine utility for people, using this new technology and/or platform? What can we offer that is new, and/or useful to our customers (or potential customers)?
How can we test and learn, versus going all in? What do metrics of success look like with this platform or technology?
How can we use this platform or technology to extend the brand, versus copying what we do in the real world? What creative licence can we take to connect with people in a new way?
If you'd like to learn more about how emerging technologies can be meaningfully leveraged for your brand, please get in touch.