Brands I Love 2017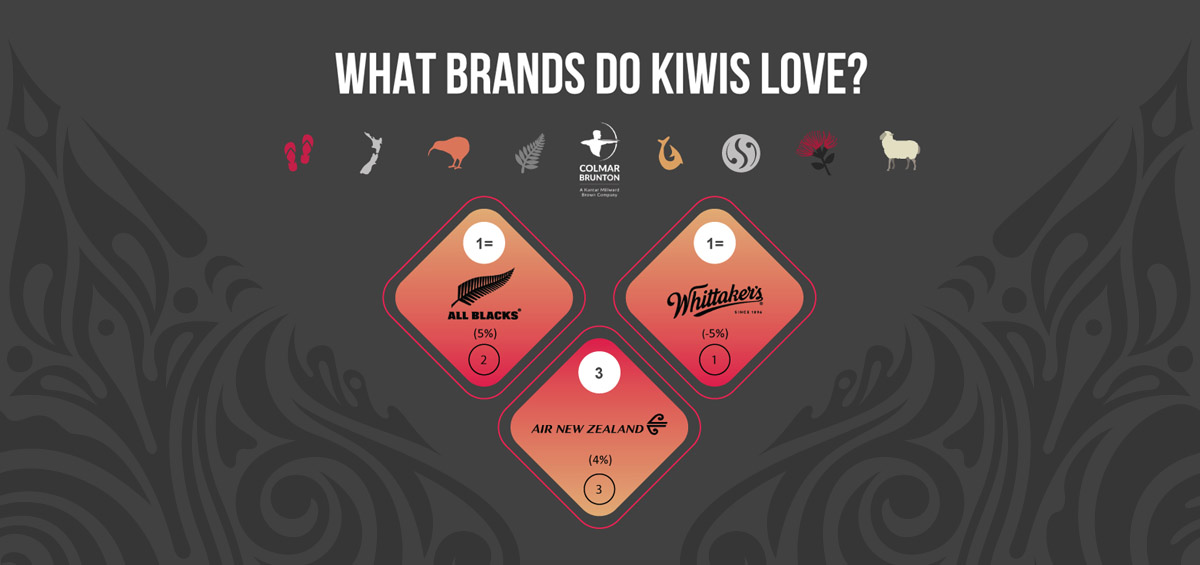 Another draw for the All Blacks in 2017.
Just as they did against the British and Irish Lions earlier this year, the All Blacks have once again had to settle for a draw – this time in New Zealand's Brands I Love survey.
But it's no mean feat as the All Blacks have increased their popularity with Kiwis in the last 12 months to share the title of New Zealand's Most Loved Brand with Whittaker's, the seemingly unbeatable champion of the past three years.
In the 2017 Brands I Love rankings released by Colmar Brunton this week, Air New Zealand stayed strong to hold on to its place in third, Tip Top retained fourth place and online marketplace Trade Me moved up from 10th place to sixth-equal with Pineapple Lumps.
Wattie's, New World and Mainland all moved into the top 10, and there were a number of newcomers to the top twenty with L&P leaping up 16 places to 13th, a notable result for the iconic soft drink, making the top 20 for the first time in three years. The Silver Ferns netball team jumped 17 places to 17th and Briscoes resumed its position in the top 20, moving up 16 places to 19th.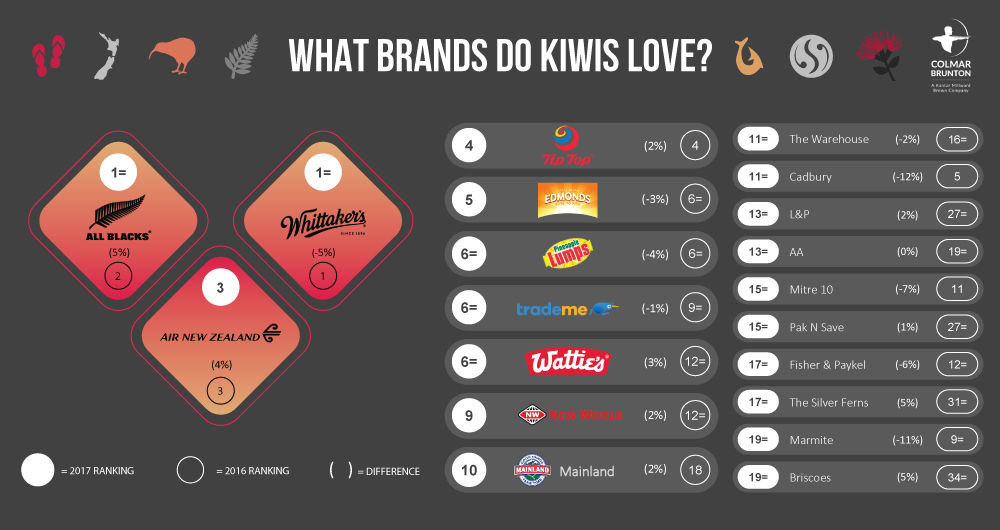 Colmar Brunton Chief Client Officer, Sarah Bolger, says those in the top 20 are experiencing the benefits of having a meaningful and different approach to the way they build their brand.
"Our top three brands in particular are effective at staying top of mind by appealing to their audience and setting trends. A great example of this is the Air New Zealand safety video – its 'fantastical journey' video not only ensures you get safely to your destination but is also entertaining and engaging."
While the top three qualities of the leading brands were 'being kiwi', along with 'well-known' and 'great value for money', each brand also had specific strengths with Whittaker's scoring highly in 'indulgence' and the All Blacks considered 'inspiring'.
"Our top two brands are expert at playing to their strengths and amplifying those qualities, for example Whittaker's emphasise their indulgent appeal in their campaign involving Nigella Lawson and her high profile friends" Ms Bolger says.
"The All Blacks are inspirational role models on the rugby field and also appeal to every day kiwis through well-known brands such as Weet-Bix.
"Forging a meaningful connection with consumers helps to build financially strong brands. The message to other brands is don't leave your audience behind."
A representative sample of 1000 New Zealanders were surveyed online and the survey has a maximum margin of error of + or – 3.1%.
Insight and thinking
Read our latest articles and reports, with expert perspective, proprietary data, and thought-provoking insights.