Better Futures 2019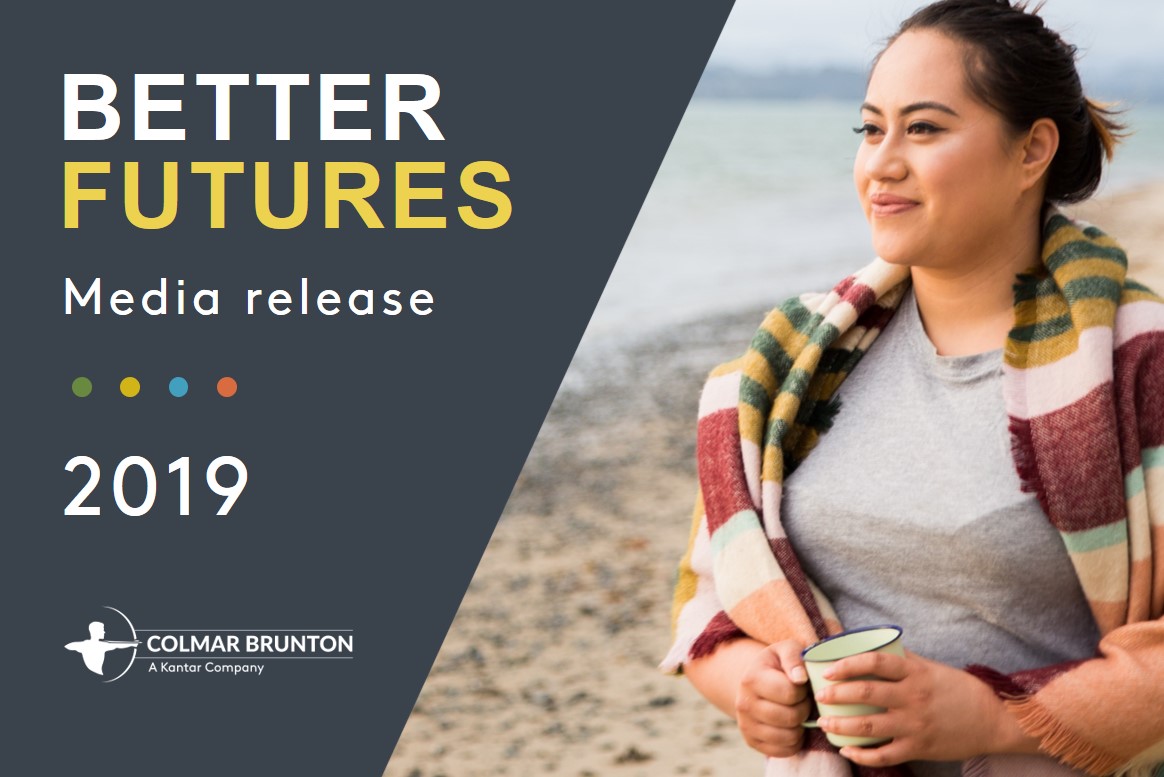 For the first time in 10 years, New Zealanders' concern about climate change has tipped 50%, according to new research by Colmar Brunton.
The latest Colmar Brunton Better Futures report surveyed 1,000 New Zealanders in December 2018 on a wide range of environmental and social issues and is being released in partnership with the Sustainable Business Council.
"For the first time in a decade, more than half of those surveyed expressed a high level of concern about climate change. The challenge now for government and businesses alike is to make climate actions as tangible for New Zealanders as reducing plastics," says Head of Colmar Brunton Sarah Bolger.
Top 10 concerns for New Zealanders:
Build-up of plastic in the environment, 72% (up 9 points from last year)
The cost of living, 68% (no change)
Protection of New Zealand children, 67% (down 1 point)
Suicide rates, 67% (up 3 points)
Violence in society, 65% (down 4 points)
Pollution of lakes, rivers, and seas, 64% (up 4 points)
Caring for the ageing population, 63% (NEW)
The protection of my personal data online, 62% (NEW)
Availability of affordable housing, 61% (up 2 points)
Not having access to good, affordable healthcare, 60% (up 2 points)
"The growing public concern about plastic waste reflects a breakthrough moment around the phase-out of plastic bags and the launch and subsequent suspension of the soft plastics recycling scheme. This has created more pressure for businesses to eliminate unnecessary packaging from their product offerings," says Ms Bolger.
Along with surveying the level of concern, the research found a growing number (4 out of every 10) New Zealanders are highly committed to living sustainable lifestyles.
"This growing consumer action is an opportunity for businesses to show leadership on sustainability issues," says Sustainable Business Council Executive Director Abbie Reynolds.
The report found 83% of consumers believe the way businesses talk about their social and environmental commitments is confusing, up 11 points from last year to an all-time high. 7 out of 10 were also unable to name a brand which is a leader in sustainability.
"Businesses with strong social and environmental credentials are viewed as more attractive places to work. However, consumers continue to be suspicious of greenwashing and businesses need to improve how they communicate with consumers to help them make more sustainable choices," Ms Reynolds says.
Other behaviour indicating an increase in action supporting sustainable lifestyles include consumers increasingly disposing of clothing / household items through online community groups (59%). This will only increase with the popularity of Marie Kondo's decluttering advice. However, only 25% would buy second-hand rather than new, to avoid buying new stuff.
Vegetarianism and veganism are also on the rise, with 1 in 10 New Zealanders now going mostly or completely meat-free, up from 7% last year.
The report also shows consumers are yet to truly embrace electric vehicles, with 34% are thinking about switching to an electric vehicle. However, 22% probably won't and 27% don't want to switch.
The full Colmar Brunton Better Futures report is available here.
Insight and thinking
Read our latest articles and reports, with expert perspective, proprietary data, and thought-provoking insights.